The Golden Pin
Presented on 21nd March 2007 to Toke Nørby at the annual meeting
of the Danish stamp club KPK (Kjøbenhavns Philatelist Klub)


Here is what The Danish Philatelic Federation DFF wrote on their home page in April 2007 about the ceremony: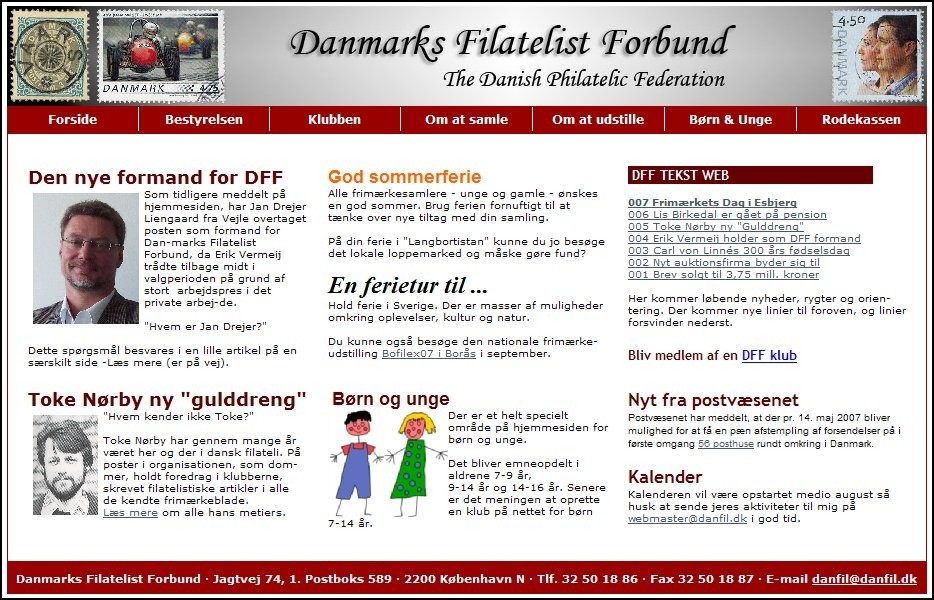 (A screenshot only - showing an old photo from 1970 (!) of me in the lower left corner)

Below: The president of the Danish Philatelic Federation, Erik Vermeij, presented the Golden Pin to me and explained what I've done for Danish and international philately during a bit more than 30 years. The people on the photo are the president of KPK: Morten Pieper, Erik Hvidberg Hansen (secretary of the KPK), Heino Jørgensen (chairman at the annual meeting), me, Holger Carstensen (treasurer of KPK) and Erik Vermeij: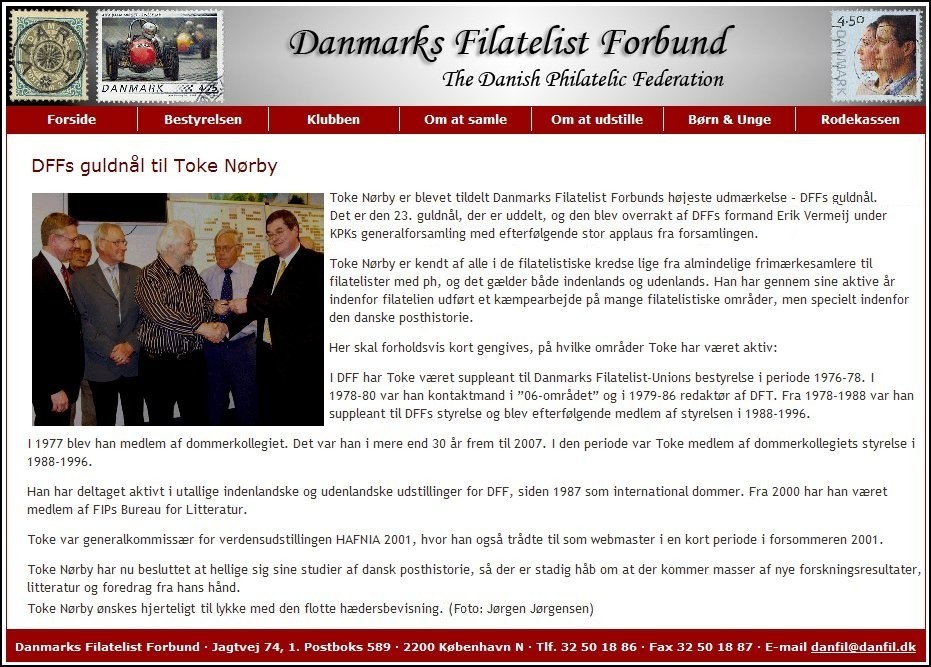 (Thanks are due to DFF's webmaster Søren Christian Jensen for permission to use the two screenshots).

The Danish Philatelic Federation's Medal of Honour for outstanding Service:

THE GOLDEN PIN
This award was introduced in 1988 and is intended for persons who have: 1. Served for a long time in the Danish Philatelic Federation - 2. Served as president for one of the Federation's clubs in an outstanding way and have done work for the Federation - or 3. Done an outstanding job at the international level for philately in general.

The award is be recommended by a member of the board of the Danish Philatelic Federation or one of the Danish Federation's contact persons. (The recipients are from Denmark unless otherwise stated). Awards have been made to date to the following:

1988 Tage Buntzen*
1988 Hans Bernhard Sørensen*
1988 Karlo Lindskog*
1989 Arne Dahl*
1989 Knud Mohr*
1989 Palle Laursen*
1990 Knud Juul*
1990 Jesper Haff*
1990 George Bernhard Lindberg* (S)
1990 Leon Larsen
1990 Kaj Vagnkjær*
1991 Ib Eichner-Larsen*
1992 Sven Lund*
1992 Ingvar Larsen*
1992 Tom Plovst*
1994 Ladislav Dvoracek* (Cz)
1994 Anneliese Møller*
1994 Jens Peter Jørgensen*
1996 Ib Kristensen*
2002 Tage Bøcher Knudsen*
2004 Niels Valdal
2006 Lis Birkedal
2007 Toke Nørby
2008 Erik Vermeij
2011 Gert Guttenberg
2014 Jørn Walther Pedersen
2014 Peter Kristen Højgaard Bech
2015 Leif Ørndorf
*deceased

Back to Toke Nørby's home page
31.10.2015
This page will not be further updated. For newer awardees, please contact The Danish Philatelic Federation.
---