NORDIA 96
During 25-27 October 1996, The Philatelic Federation of Iceland had their third NORDIA Exhibition, NORDIA 96, in Reykjavík. To "celebrate" this event, I wrote this little article to show an example of a special Icelandic ship postmark used in Reykjavík.

This article (Copyright 1996-2000 by Toke Nørby) was published in LUREN, Vol. 28, No. 5, May 1996,
The Scandinavian Philatelic Library of Southern California, Inc.
Former editor: Paul Nelson, P.O. Box 310, Claremont, CA 91711, USA. E-mail: pnels@worldnet.att.net
Also published in The Maritime Postmark Society's journal SEAPOSTER, Mar.-Apr. 1996, no 350.
Editor: Tom Hirschinger, 141 Gordon Avenue, Wadsworth, Ohio 44281, USA.

"FrᆠDanmörku"
As you may know, Iceland is a very impressive country and its postal history is a very interesting study subject. As Iceland is an island, mail to and from Iceland in the "old days" was sent by ships in regular service between other countries and Iceland and many covers arriving in Iceland were postmarked with special postmarks for ship mail.
A "newer" postmark is the "FrᆠDanmörku" handstamp, which was used in the period 1954-1966. This is, to the best of my knowledge, the known period of use of this ship postmark. This framed ship postmark is normally seen on covers sent by philatelists ("Cancelled to Order") although the postmark was allocated to the post office in Reykjavík to be used on normal incoming mail collected from the ship mail boxes on ships arriving in Iceland from Denmark.
The exact first and last days of use are not known to Icelandic postal historians but the postmark has been seen in use in the period:
1954.01.13 CTO-Cover. (Ebbe Eldrup, Denmark) - 1966.04.25 Normal Commercial Cover. (TN).
A Nice "30/25 Øre Letter"
This letter is a first rate (0-50 g) inland letter, postage due 30 øre (in the period 1952.07.01-1963.04.14). The letter is one of the few known normal letters cancelled with the framed "FrᆠDanmörku" handstamp. The letter was sent from The Færoes (which can be seen from the back of the cover) to Iceland and to mark the day of arrival the letter was postmarked in Reykjavík 1957.09.02, a Monday.

The Icelandic postal historian Ólafur Elíasson told me in 1992 that Hlíðardalsskóli was (and still was in 1992) a farm, located a few kilometres south of Hveragerði. On this farm there was a boarding school owned and run by a sect, The Pentecostal Movement (in Danish: Pinsebevægelsen). In 1957 it was quite normal for Danish and Norwegian people to be working on the farm, mostly only for a short time, from a couple of months to about half a year.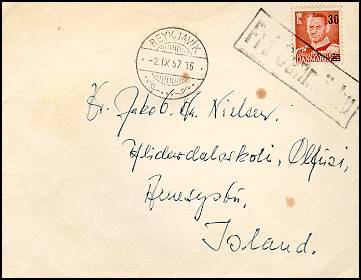 The Recipient
In 1992 Ólafur Elíasson had been in contact with the management of the farm, but they could not give any information concerning the recipient of the letter. They had kept no information on the employees back in 1957. I would have asked the recipient why he had kept the cover and whether he knew about any other Danish persons who had received similar mail, to find out a bit more about the use of this handstamp.

The "Normal" Period of Use of the Danish 30 Øre Provisionals
In spite of that, I have found that the "normal" period of use for the 30-øres provisionals in Denmark to be 1955.10.20 to about 1957.01.01. These provisionals were available at the post offices on The Færoes during most of the year 1957 because of a more moderate usage there than in Denmark. According to "The Official Announcements from The Danish General Post Office", OM, No. 29 from 1956.07.11, the last provisionals (30/25 øre in red, type III, surcharge printing forme 2D) were sent out from the GPO stockpile 1956.07.05.

The post office in Reykjavík had similar postmarks to be used on ship mail from Sweden, Finland and Norway.