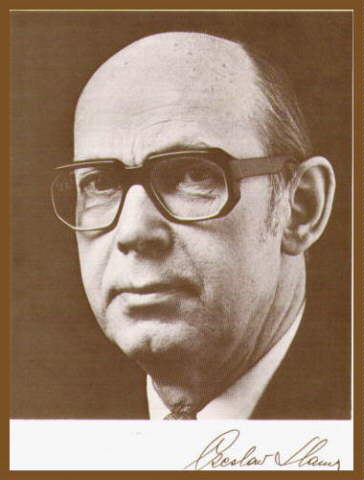 Czeslaw Slania (pronounced Chess-wav Swan-ya) was born in Silesia, Poland in 1921. He entered the Cracow School of Fine Arts in 1945. Employed by the Polish Government Printing Works, Slania engraved his first stamp for Poland in 1951. He came to Sweden in 1959, and engraved a stamp for Sweden in 1959. Slania formally joined the Swedish Postal Service as a full time engraver in 1960. Since then, he has been appointed Royal Court Engraver in Sweden, Denmark and Monaco, and won numerous awards for both the beauty, speed and proliferation of his engravings. Because of the number of items he has engraved and their beauty, Czeslaw Slania is the world's most famous engraver.

Picturered here in a 1980 photo, he is now 74 and still amazing people around the world with his skill, accuracy and speed. Although he already has the world's record for the greatest number of fine engravings, he has a personal goal of 1,000. Some engravings, like his portraiture of Queen Margrethe II of Denmark, has been used on dozens of different stamps and postal stationary items, but Slania counts this engraving as only a single piece of work. Those of us within the Czeslaw Slania Study Group are eagerly watching as he approaches his goal. We join the Poles in wishing Slania Sto Lat!, or 100 years!
---
What is engraving?
Engraving is an art process where lines, dots and dashes are cut into a soft metal plate with a tool called a burin. The engraving is done life size and in mirror reverse. Up to 10 lines per millimeter are cut at depths varying from 0.01 to 0.08 mm to give the effects of shadows, highlights and contours. Because engraving requires long years of study and an extended apprenticeship, it is used for high security documents such as postage stamps and banknotes.

Fine art productions usually require that only a few images are produced from each plate. In stamp production, many thousands, if not millions, of impressions are made. Although the production of the actual engraving plate is similar, the production of the plates used to print stamps is the work of an entire sub-industry.

After the final artwork has been approved, the engraver cuts the major engraving lines as an outline into cellophane which is eight times larger than the final design size. The cut cellophane is placed over an asphalt-coated zinc plate in mirror image position. Lines are cut into the asphalt, tracing the cellophane outline, with a steel pin. The plate is placed into a nitric acid bath which etches the design into the zinc, and the asphalt is then removed. A machine called a pantograph then traces the etched outline onto a piece of soft 18.5 x 20.5 mm steel. This reduces the design by a factor of eight so that the outline is the actual size of the stamp. This crude mirror image on soft steel begins the real art of engraving.

Using a burin and magnifying glass, the engraver carves up to ten lines per millimeter into the soft steel. By carving patterns of lines, dots, and cross-hatch patterns, he forms the mirror image into the stamp-sized field of steel. Many lines, deeply carved and close together, produce heavily shaded areas on the final image. Lighter areas, such as a cheek highlight, contain relatively few shallow lines. Whatever the desired effect, the engrave must get it right the first time. There is no such thing as an eraser on a burin. This exacting process usually requires between four and six weeks per engraving. Constant proofs are pulled during this process to insure that the work is proceeding according to plan.

The finished plate is then sent to the printing works, where it is tempered in an 800 C sodium cyanide bath for 45 minutes, and then quenched in water. This hardens the plate so that it can withstand further processing.

The hardened plate then has its image transferred to a soft steel transfer roller called a molette. Four equally spaced positive images are pressed into the molette, which is then tempered the same way that the original steel plate was tempered.

The positive image of the molette is then impressed onto the printing cylinder, giving a negative (mirror) image. The printing cylinder is steel covered with a thin layer of copper to insure a good impression. For a typical definitive-size stamp, the molette would impresses 10 rows of 34 images each for a total of 340 images.

The printing cylinder is then chrome plated to harden its surface, and is then ready to be mounted on a press and the actual printing started.

There are many varieties of this basic process, particularly where multicolor printing is required, but the basic engraving process is the same. Engraving is a laborious process to learn, requiring long apprenticeship, consummate physical dexterity, a highly developed artistic sense and patience. Because of this, most of the world's stamp production is now done by photographic processes which require none of the master engraver's traits.

Why collect Slania's work?

Each piece is a work of art. An engraved stamp consists of thousands of tiny lines, dots and dashes that the human eye conceives as a cohesive picture.
Czeslaw Slania is the world's most productive engraver. No one has produced as many engravings as had The Master. He is noted in the Guinness Book of World Records as the champion engraver of all time.
Czeslaw Slania is the world's fastest engraver. It typically takes 4 to 6 weeks to finished an engraving. Slania has set a record for completing engravings. His memorial to King Gustav Adolf released on 24 October 1973 was completed in 10 day. The wedding of King Carl Gustav and Silvia Sommerlath was done in 6.5 day, and his portrait of assassinated Prime Minister Olof Palme was completed in an amazing 5.5 days.
Engraving is a dying art form. Engraving is difficult, time consuming work that few are willing to learn. The process requires a long apprenticeship, and consummate patience, artistic sense and hand-eye coordination.
Engraving is expensive to produce. Not only must the engraver be paid, but an entire technology must support his work in order to produce it. Photographic methods, which produce the vast bulk of today's stamps, are much cheaper and faster.
Czeslaw Slania's work is realistic. Ireland has laws similar to that of the United States that forbid the depiction of living persons on stamps. When Slania engraved Ireland's soccer issue, his rendering of the players from an photograph was so faithful that the individuals could be identified.
Czeslaw Slania has won many awards. Slania has won The Organizzazione Maggiore Antoni Bernadi Gold medal for the most beautiful sports theme for 1954, San Marino's engraving competition in 1967, and The Most Beautiful Stamp awards (sometimes several times) from Sweden, The Faroes, and Monaco. He has been awarded the titles of Master Engraver of The Reign by King Gustav Adolphus VI, Knight of Dannebrogen by Queen Margaret II and Ordre de Saint Charles by Prince Rainier III.
Czeslaw Slania's work is international. Slania has done engraving work for Argentina, Australia, Brazil, Denmark, England, Estonia, Faroes, France, Germany, Greenland, Iceland, Ireland, Israel, Jamaica, Kazakhistan, Latvia, Lithuania, Monaco, New Zealand, Poland, Portugal, San Marino, Sweden, the United Nations and the United States.
Czeslaw Slania's formats are varied. Slania has produced banknotes, stamps and stamp-like labels, bookplates, stationary, art pieces, and even a concert program In his youth, he even recreated (a much nicer word than forged) a bus pass that he had lost.
Czeslaw Slania's subjects are varied. People singularly and in groups, landscapes, abstract symbols, household furnishings, famous paintings, buildings, airplaines, boats, cars, and ships are all grist for his mill.
Czeslaw Slania's media is varied. Although Slania is known as a master engraver, he has also worked in, pencil, watercolor and other media to produce his masterpieces in miniature.
Czeslaw Slania has a sense of humor. Look closely at his work. You'll see Slania skiing down a mountain or his mother planting potatoes, or the names of girl friends, relatives, friends, and co-workers buried in intricate engraving detail. He has also been known to put intentional mistakes into his work as buried jokes.
Collecting Slania's works can fit any budget. If you choose to collect postally used examples of Slania's stamps, the cost is minimal and the challenge is great. Adding additional items such as mint examples of his stamps, labels, postal stationary, stamp varieties and artwork gradually increases the price. There is no right or wrong way to collect. You can set your own goals and expand them as your time, interest and resources dictate.