The Postal Museum in Copenhagen, Demnark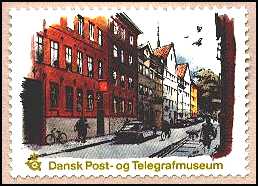 The Museum "Dansk Post- og Telegrafmuseum" you can find in Valkendorfsgade 9, DK-1151 København K, (Phone + 45 33 32 30 63).
Here you can see, what I am dreaming about too! This is rally the place for Postal History Colectors. It is impossible to mention all the postal artefacts you can see, so please visit it: Open 10 am - 4 pm all Days from May 1 to October 31 and 1 - 4 pm on Thursdays and Saturdays the rest of the year.
Well, I have to tell you that the Museum is closed at the moment as it is moving to a new and better location: Købmagergade 37 - also in Copenhagen. At the moment we do not know when the "new" Museum will open but you can contact the museum by e-mail, if you like: ptmuseum@isa.dknet.dk
"Dansk Post- og Telegrafmuseum" has its own "stamp" with no value showing its location in Copenhagen. The "stamp" is printed on the stamp printing machine in Copenhagen. The "stamp" is free if you visit the museum but you can buy them (1 Danish Krone each). When you visit the museum give Tove and Erik greetings from me :-)
Back to Toke Nørby's home page. Uploaded first time: 15 December 1995. Last modified 5 November 1997
---
December 2018: Please remember that the page shown above is about 25 years old, so the addresses, phone numbers and URL's are totally outdated - and the persons mentioned has retired :-)
For relevant information, please see: Enigma.dk and my own home page norbyhus.dk