The Postal Museum in Aarhus, Denmark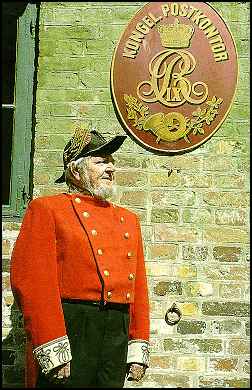 You can find the museum "De Post- og Telegrafhistoriske Samlinger i Aarhus" in Kannikegade 16, st. th., DK-8000 Aarhus C, (Phone + 45 86 18 54 00) where its library also is located.
If you are going to visit Aarhus, you would do yourself a favour if you visit the old post office in "Den gamle By" (the old town) in Aarhus. The old post office belongs to "De Post- og Telegrafhistoriske Samlinger i Aarhus" and here you can se what I am dreaming about - sometimes! Old furnitures from the very old Post Office, old Cancellations Marks, weights and the desk of postmaster Einer Holbøll, the inventor (in 1904) of the Christmas Seal.
On the postcard here you can see a real old danish postmaster "Waiting for the Stagecoach" as the text reads. (The old postmaster is late Henning Vraa Andersen and he WAS a real postmaster - not waiting for the stagecoach, but probably for a nice evening playing cards with us guys: L'hombre! :-)
Back to Toke Nørby's home page

---
December 2018: Please remember that the information above are about 20 years old, so the addresses and informations are totally outdated :-) For relevant information, please see: Enigma.dk as the postal museum in Aarhus has been closed many years ago.