Below a postcard postmarked with the type II postmark from 's-Gravenhage on 19 August 1901. The postage fee for an inland postcard was 1 cent in the period 1871.01.01-1919.11.016. The "D 214" cancel is a so-called mailman cancel. In this case it referred to a mailman in Amsterdam whose badge number was "214". The "D" tells us which delivery of the day it was. At one time Amsterdam had nine deliveries a day (!). The first delivery in the morning was the "A" delivery, the second one the "D" delivery, and so on. The "D" then signifies that it was the 4th delivery of the day and the card was put in the receiver's mailbox by mailman No. 214.6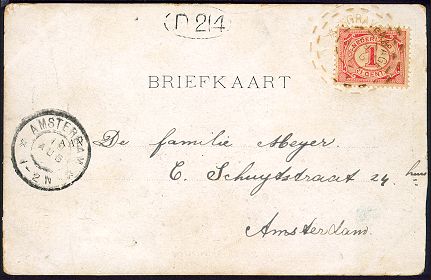 A close up of the brandstempel from this postcard is shown below.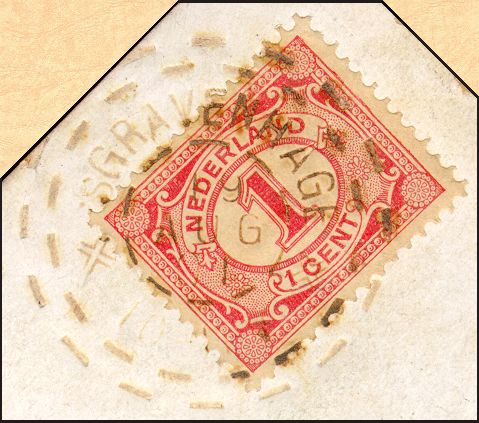 A Close Up of the Brandstempel.

According to Erik Jensen from the Danish Post- & Telemuseum C. C. van der Valk offered his Vulcanus to the Danish General Post Office on 30 April 1901. As Erik Jensen write in his article: The machine was hot news at that time but to the pleasure for the future stamp collectors, the Danish GPO did not accept Mr. van der Valk's offer! 7

References:
1. Brandstempel "Vulcanus" van 's-Gravenhage by E. Haak. POST-FRYS; Newsletter from
Vereeniging van Postzegelverzamelaars Friesland, September 1985, page 3-5.
2. Het Brandstempel in Newsletter of the Post Zegel Verzamelaars Noordwijk's newsletter, December 1997, page 17 and 18.
3. Brandstempels by Arie Bakker. Newsletter of the Post Zegel Verzamelaars Breda, May 1998, page 8 and 9.
4. Nederlandsch Maandblad voor Philatelie, no. 6, 16 June 1928, page 108.
5. O.M. Vellinga: De poststempels van Nederland 1676-1915. Nederl. Bond van Ver. van Postverz. 1932, page 126-127 and plate book, page 13.
6. Hans Kremer. American Society for Netherlands Philately. (mercator.40@worldnet.att.net)
7. Stemplingsmaskiner og Maskinstempler by Erik Jensen. Nordisk Filatelistisk Tidsskrift no. 5/6 1982, page 141.

Acknowledgements:
Thanks are due to Rob Vlaardingerbroek, 's-Gravenhage, for valuable help with this article.