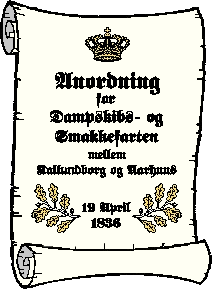 The Royal Decree
As the illustration to the left shows, the official announcement of the new shipmail route between Aarhus and Kalundborg was dated on 19 April 1836. The route was to be opened on 1 May 1836 as a Passenger and Mail carrying route. In 1836 the postage fee for a letter sent from Aarhus to København did not depend on which route the letter was sent - and after 1 May 1836 there were actually three ways, namely:

1. Aarhus-Kalundborg-København
2. Aarhus-Nyborg-Korsør-København
3. Direct by ship Aarhus-København

and it could be of significant importance to know which route was the fastest depending on which day in the week a letter should be sent.
The Mail Service in 1836 - The First Year
According to a circular from the General Post Office (GPO) dated on 5 April 1836, the mail service on this route took place in the period 1836.05.01-1836.10.31 where Dania left Kalundborg at 8 am on Wednesdays and Sundays. She was scheduled to leave Aarhus 8 am at Thursdays and Mondays. According to a GPO circular dated on 3 December 1836 Dania this year sailed her last tour of 1836 on 24 December, as she had to have a check of her machinery and other maintenance.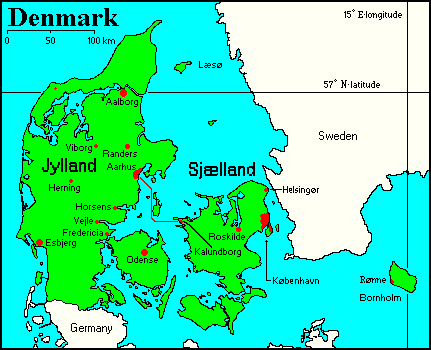 The Aarhus-Kalundborg shipmail route.
The Route Marking
According to Haandbog i det Udvortes Postvæsen (4): Every person is allowed to mark his letters such that it can be seen on which postal route he would like the letters to be sent. As to the Aarhus-Kalundborg route the letters should be marked with "Via Callundborg".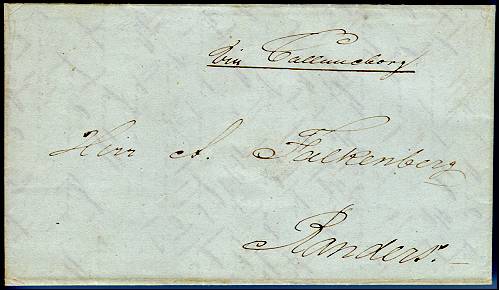 The above illustration shows a letter sent from København on 25 November 1843, a Saturday, with the "Kallundborg Steamship Post". From the letter, it can be seen that it arrived at Randers on the following day. According to GPO circular no. 5/1843.03.07: The "Kallundborg Steamship Post" which leaves København on Tuesdays and Saturdays has a connection to the steamship leaving Kalundborg, on Saturdays and Wednesdays.


Acknowledgement
I am indebted to Professor Russell V. Skavaril, Ohio, USA (b. 06.12.1936 - †30.11.2000) for permission to use and modify his Scroll from the (former) home page of "St. Helena, Ascension and Tristan da Cunha Philatelic Society". I am also indebted to the Danish artist Andreas Laursen for permission to use his illustration (3).
References
Postvæsenet i Danmark (The Post Office in Denmark) III. By Fr. Olsen. Copenhagen 1908, p 370.

Danske Dampskibe indtil 1870 III (Danish Steamships until 1870 III). By Holger Munchaus Petersen. Esbjerg Nautical Museum. ISBN 87-87453-25-8, p 89.

Danske Hjuldampere (Danish Paddle Steamers). By Andreas Laursen. ISBN 87-14-28169-4, Copenhagen 1981, p 10.

Haandbog i det Udvortes Postvæsen 1839 (Handbook of the postal services in Denmark 1839). By F.C. v. Jessen, § 44, Brevpostcourser i Danmark (Postal routes for letters in Denmark). Copenhagen 1839


Other references: The circulars of the Danish General Post Office. Literature about the Aarhus-Kalundborg route and my own research in old newspapers and elsewhere.